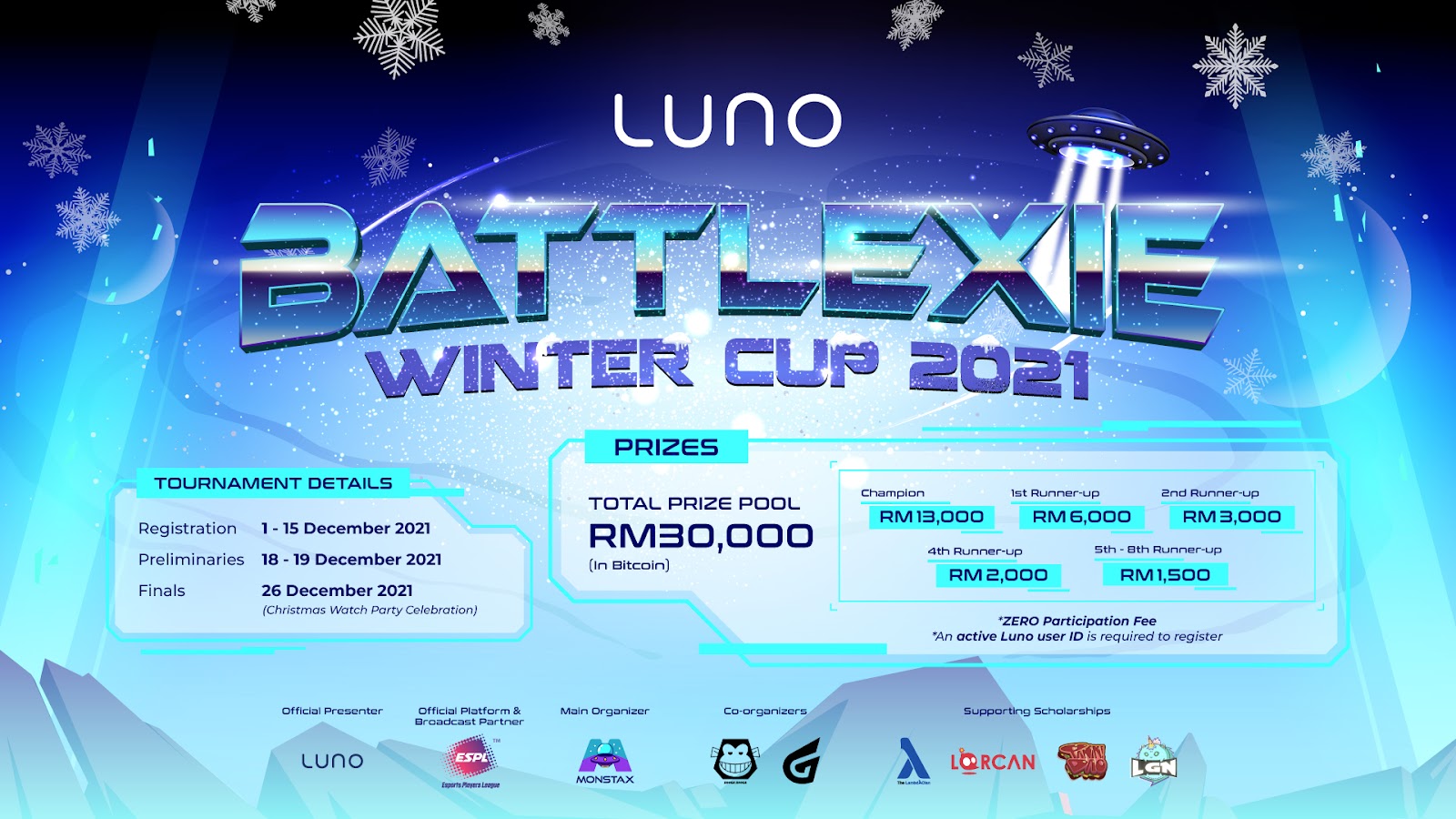 Luno Battlexie: Winter Cup 2021 to Showcase Malaysia's Top Axie Infinity Players

With RM 30,000 in Bitcoin up for grabs!
Non-fungible tokens and other blockchain-based tech have swept the world with this new form of technology, changing the way we interact with art, entertainment, and more. And it was only a matter of time before NFTs made the official jump into esports.
Luno has recently announced its partnership with Monstax Guild as the main sponsor for the Luno Battlexie: Winter Cup 2021, a blockchain gaming tournament featuring the popular NFT game, Axie Infinity.
Luno Battlexie: Winter Cup 2021 is part of Luno's commitment to supporting Malaysia's growing blockchain gaming community, which has highlighted the potential of play-to-earn (P2E) games in creating a new competitive esports ecosystem.
Most notably, Axie Infinity has garnered two million daily active players globally where they collect, battle, and breed NFT creatures to earn Ethereum-based digital assets, which players can choose to convert to regular currency.
For the uninitiated, Luno is the first regulated and leading digital asset exchange in Malaysia. Luno's products and services make it safe and easy to buy, store and learn about cryptocurrencies like Bitcoin and Ethereum.
With the rise of blockchain gaming, Monstax Guild has established a fair community platform that empowers players with the opportunity to experience P2E games. In addition, the platform aims to build a competitive, ever-learning, growth-driven, equal and lucrative ecosystem for the blockchain gaming community.
From December 1 to 15, players can register on the tournament's Discord channel and stand a chance to win a share of the prize pool amounting to RM30,000 in Bitcoin.
Preliminary rounds will commence from December 18 to 19, during which the top eight players will be selected for the semi-finals. From there, the top five players will be shortlisted for the grand finals that will be held on December 26.
The Luno Battlexie: Winter Cup 2021 tournament is free to enter and open to all verified and active Luno users in Malaysia aged 18 years and above. The grand finals will also be streamed live on the social platforms of the Esports Players League (ESPL).
Read the full story by DALE BASHIR at https://sea.ing.com
For inquiries or more info, email us at support@espl.gg and info@espl.co
Follow us on LinkedIn: ESPL Esports Players League