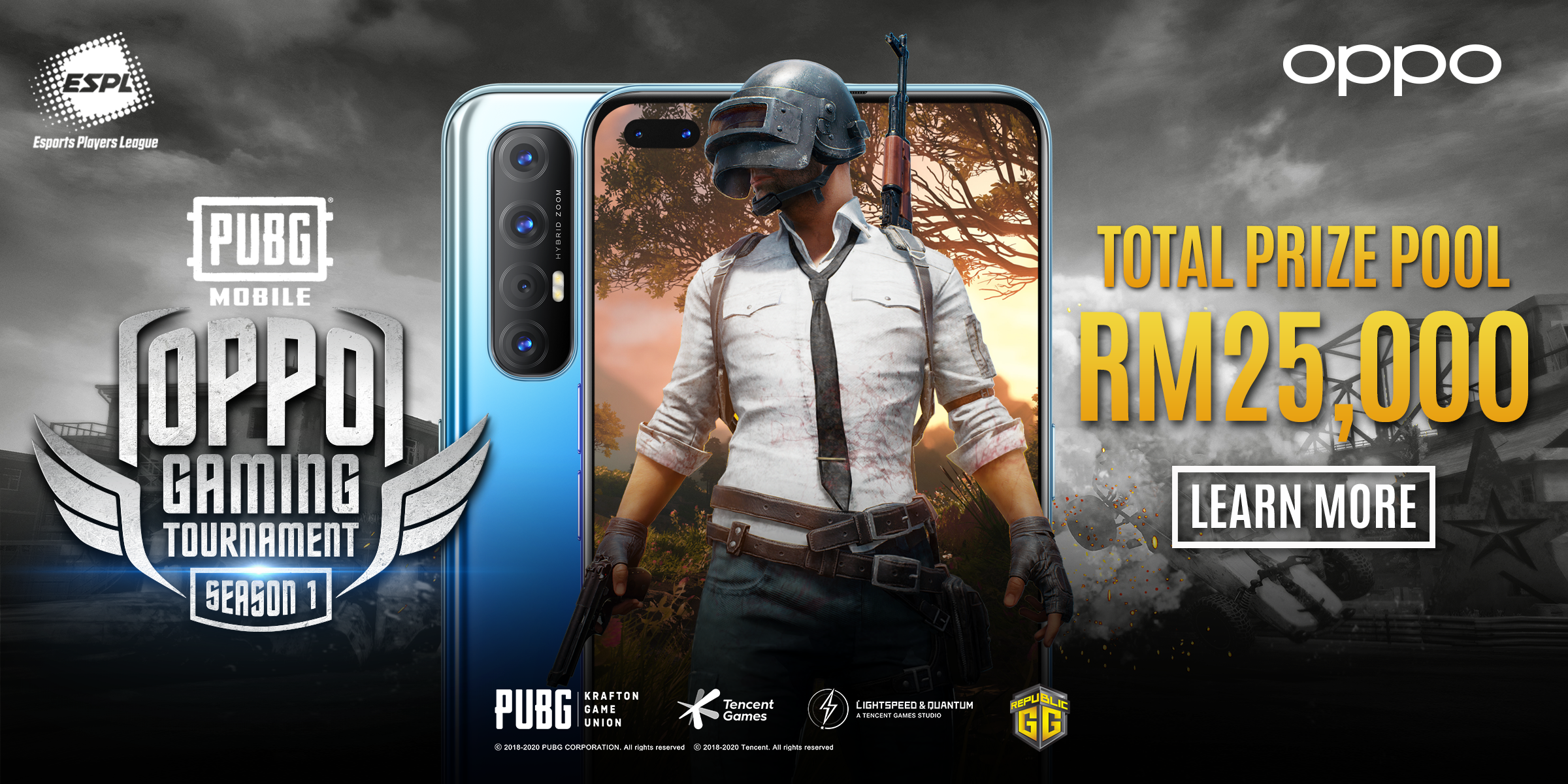 OPPO partners with ESPL & Digi to launch OPPO Gaming Tournament Season 1
OPPO Gaming Tournament Season 1 – prizes worth RM25,000 and is open to all gamers in Malaysia.
KUALA LUMPUR (15 June, 2020) – Esports Players League (ESPL), the new global esports tournament network and platform has entered into a partnership with leading smartphone maker OPPO and Malaysian mobile connectivity and internet services provider Digi Telecommunications Sdn Bhd (Digi) which own a fast-growing gaming platform Republic GG, to organize the first major esports tournament in Malaysia post the Movement Control Order period in Malaysia. 
The esports tournament, OPPO Gaming Tournament Season 1 (the "Tournament"), will be hosted on ESPL's online platform at espl.gg and will be managed by ESPL Malaysia. The tournament will have an attractive prize pool worth up to RM25,000, with RM10,000 in cash and RM15,000 worth of OPPO products.
OPPO is a leading smartphone maker that specializes in designing innovative smartphones for young people. The brand is popular in Malaysia and is one of the fastest growing smartphone brands in the world.
Digi has been focused on servicing the gamer market in Malaysia through its online gaming credits platform Republic GG, which has been successful in even attracting sign-ups from non-Digi users.
"We are very pleased to work with OPPO and our strategic partner Digi to spearhead the recovery phase of the Movement Control Order in Malaysia, with a major esports tournament that will bring lots of excitement and entertainment to the gamer community of Malaysia, while perfectly observing the safe social distancing new normal, as the tournament will be held entirely online," commented Michael Broda, CEO of ESPL.
The tournament will be targeted at amateur gamers, which echoes ESPL's goal of helping to build a strong foundation for esports globally through tournaments such as this. The game title that the tournament will compete on will be the popular Battle Royale game, PUBG Mobile.
ESPL is a global esports tournament and platform provider that focuses on creating mobile and online ecosystems for amateur esports communities globally. ESPL has a presence across Southeast Asia, South America, and Europe. ESPL is in its first phase but is expanding fast into other continents as well.  By facilitating grassroots participation in what is a rapidly expanding esports market, ESPL has direct access and exposure to a large, valuable, and often overlooked segment of the esports market.
With the rising interest in esports and gaming, especially during the global lockdown, ESPL will work with OPPO and Digi as strategic partners to bring high-quality and well curated competitive gaming to the amateur gamer community in Malaysia. Not only has Esports emerged as one of the largest sports genres globally now, but it is fast becoming a popular digital entertainment for smartphone users.
Tournament registrations for the OPPO Gaming Tournament will begin on 15th June 2020 with the tournament's qualifiers starting on the 8th of July, and the finals expected to take place on the 12th of July 2020. Both the semi-finals (11th July 2020) and the finals will be streamed live on ESPL's Facebook page.
Those who are interested in participating in the tournament can register at espl.gg/rgg.